Forgot admin account password windows xp. Forgot Administrator Password of Windows Xp 2019-02-28
forgot admin account password windows xp
Thursday, February 28, 2019 2:31:58 AM
Thanh
Windows XP administrator password LOST !!!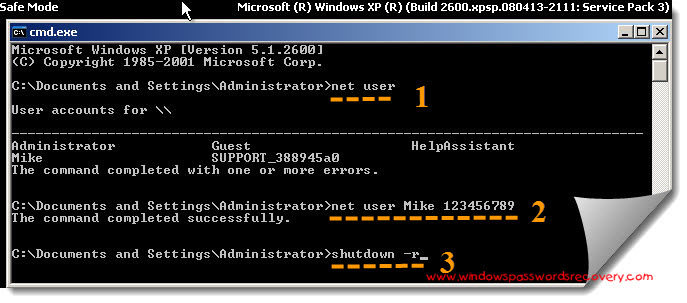 Is there any method to remove or? The best thing is that all you need is the cd to boot, do your thing, and your done. The screen told me the command completed successfully. Encrypt the system drive with BitLocker - not suitable, as we aren't trying to protect data in this case. The majority of that time was spent reading your article and the program information. I am not sure is it because of the access problem since I was only given access as a standard user where I just log in to domain but not give rights to install any applications. I wear a lot of hats.
Next
Forgot Administrator Password Windows XP Professional
Not all user accounts are set up this way, but many are, especially if you installed Windows on your computer yourself. Step 10: Press Enter to select Edit user data and passwords. I believe there is, for us pc for dummies people, a lack of steps or at least explanation of steps in the beginnin with the ctrl+alt+delete thing. I couldn't get past the part where you press shift five times - when i do that it brings up a box which says 'Do you want to turn on sticky keys? I turn off laptop the wrong way and it says start with safemode and command prompt but it simply reboots in safe mode and doesnt take me to the darn c prompt. It could be D: under Windows 7 because the first partition contains Startup Repair and will be assigned with C:. Move Your Career Forward with certification training in the latest technologies. Once again, we just press Enter.
Next
Forgot Administrator Password of Windows Xp
Shortly after the Copying Files stage, you will be required to reboot. Step 4 did not work. This will open a command prompt. Thanks With all the noise about maintaining Windows system security, it is amazing people do not secure physical access to their machines. Staying away from bios passwords, is a good idea. I don't have an install disk because most new laptops come with a recovery partition, which of course cant be accessed without a password.
Next
How to Find the Windows Administrator Password
The password for the administrator account is also unknown. I got this dropped-jaw response of incredulity that I had removed the passwords so easily. Setup will now check your disks and then start copying files which can take several minutes. I used the trick along with a Knoppix boot disk to reset the admin account of a brother-in-law who died suddenly with a will but without a list of his passwords. They should be the same now.
Next
Windows XP administrator password LOST !!!
Click on user , whose pasword u lost. Rest assured that if you do all your problems will be sorted quickly. Browse other questions tagged or. Normally now you should be able to logon to the edited account without password. It worked for me by slaving the hard drive to another pc, then taking ownership boot to safe mode, right click the file, select properties and goto security tab of cmd.
Next
Forgot Administrator Password Windows XP Professional
I have windows 7 just a copy though that was downloaded onto my computer before our having my desktop computer from p c laptops but is only a copy it let's me know almost every day once or twice at least but most days tons more. Link: alokagarwal00, a comment about your idea of having to reformat if you forget the local admin password: all these solutions require physical access to the machine. After the system is reset, all the data on system drive, including the user accounts and passwords you used before would be cleared. Top Related Searches: How To bypass windows xp password, How To bypass windows xp professional password, How To windows xp forgot password Post navigation TollfreePark is newly launched online Platform from where you can find the Top brand information which use over the internet or other device, all the information are here put up only for your general information and we don't have any kind of independent support all the information mention from various resources. Worked like a charm and is actually easier than it appears to be from the directions. The Sticky Key worked great to restore our lost Vista password the first time through.
Next
Forgot Administrator Password of Windows Xp
It is the only account I can log into now - but it has no admin rights. Thanks, Hussein I followed the instructions exactly but still could not clear the password. From Colombia Thanks for the help. I was able to use a windows 7 home premium family 3 pack upgrade disk to boot into repair mode and reset the password on a windows vista install. Now this should not be used if you have encrypted content under that user, which could be lost.
Next
How do I reset the Windows XP Administrator password?
My opinion, of course, but it seems articles are being published to fill up white space. I've read this comment a few times in relation to Microsoft's security concepts. Bobby, I am gussing that you never used The Administrator account. You should be able to access all of your files through the Administrator account, and probably be able to change your user account password logged in as an administrator. And saw that i gives boot.
Next
Windows XP administrator password LOST !!!
Right-click on his hard drive, choose security, advanced, ownership and take ownership of all files and subfolders. The program lists the contents of the folder containing the Windows registry you may need to press the space bar on your keyboard once or twice to scroll through the paged listing. Become a and go ad-free! I have his complete box and am going to re-install his hard drive. It brute forces the registry of the computer where the passwords are stored called 'hashes' and then detects the password. Your advice made a tragic situation a little more bearable for a grieving family. Like with all other solutions that allow you to reset the Windows password without having an account on the corresponding computer, you have to boot from a second operating system and access the Windows installation while it is offline. This has only been an overview of one type of operation, addressing the most common request that I encounter.
Next